Owner/Operator Manual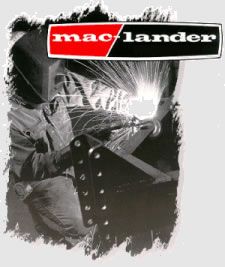 To You … Our Valued Customer
Thank you for your purchase of a Mac-Lander trailer.  We are excited to have you as a new member of our loyal and satisfied customer base.  You'll find there are many reasons Mac-Lander customers take such great pride and satisfaction in ownership of our quality products.
Years of design and manufacturing experience have gone into each and every one of our units.  And, thanks to stringent production standards and a strong dealer network we are able to meet and exceed our customers needs.   Additionally, each trailer is backed by one of the strongest warranties in the industry.
On an ongoing basis, Mac-Lander is always working and striving to implement innovative changes and improvements to its product line.
Our customers expect the best — and we've dedicated to delivering it.  Thank you again for your patronage.
What's Inside …
How to use this manual
Finding and using your serial number
Important safety tips
Hook-up procedures
Operational procedures
General Maintenance
Brake Trouble-Shooting Guide

Get the Mac-Lander Trailer Owner's Manual. (PDF 495kb)
Click button below to get the latest version of Acrobat Reader.
Using this Manual
This operator's manual provides instructions for safe, efficient, and trouble-free operation of your trailer.  You, and anyone else who will be using or maintaining the trailer, are required to read and understand the hook-up, inspection, operational, maintenance, and trouble-shooting information contained in the actual owner's manual, all of which can be found on our webpage.
Owners and operators must keep the owner's manual available for frequent reference.  IMPORTANT:  Please read all instructions carefully before you begin using your trailer.  Contact your Mac-Lander dealer if you need assistance, information , or additional copies.  Keep your manual with the trailer at all times.
Throughout this Manual
Warnings, Cautions, and Notes are used to emphasize important and critical instructions and are used for the following conditions:

DANGER: Red decal on trailer An operating procedure, practice, etc., which if not correctly followed, WILL result in severe personal injury or loss of life.

WARNING:Orange decal on trailer
An operating procedure, practice, etc., which if not correctly followed, COULD result in personal injury or loss of life.

CAUTION: Yellow decal on trailer An operating procedure, practice, etc., which if not strictly observed, COULD result in minor personal injury or damage to or destruction of equipment. NOTE: An operating procedure, condition, etc., which is essential to highlight.   Models Covered by this manual
The following Mac-Lander trailer models are covered by the instructions found in this manual:
16TFSWS 18TFMWB 20TFHWS 25TTAWC 33GTDWC 18TFRSB 18TFMSB 20TFHSB 25GTAWC 33TTDWC 18TFSWS 20TFMWB 20TFHWB 25TTDWC 18TFSWB 20TFMWS 25TDOWC 25GTDWC 18TFSSB 14TSLWB 20GDOWS 29TTDWC 18TFMWS 18TSLWB 25GDOWM 29GTDWC