Mac-Lander, Inc. is the industry leader in manufacturing quality fixture-built flatbed trailers. Today's state of the art methods are utilized throughout welding, painting, wiring and quality control. All areas must meet critical tolerances to assure you of getting the "Standard for Quality."
Our modern 50,000 square foot facility enables us to offer:
CAD designed flatbed trailers
Mig welding
Fixtured manufacturing
Computerized production control
Computer inventory control
Rigid quality standards
Our Mission
Mac-Lander, Inc. has established itself in the flatbed equipment/utility market.  A successful dealer network is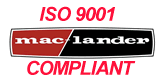 functioning throughout the country as a basis to our expanding marketing program.  Our Mac-Lander flatbed trailers are engineered for strength and provide excellent sales potential to the commercial trailer industry. Mac-Lander trailers were founded on quality and this tradition continues by setting a new standard for the production trailer.
The benefits to our customers are trailers that set "The Standard for Quality"
Member of the National Association of Trailer Manufacturers, (NATM).
All trailers meet or exceed all NATM guidelines.
Comprehensive operators manual.
Extensive parts inventory.
Factory field support.
All trailers meet DOT specifications.
3-year limited warranty.
Rigid quality standards.
National dealer network.
Check out our testimonial page to see what others are saying about the Mac-Lander flatbed trailers.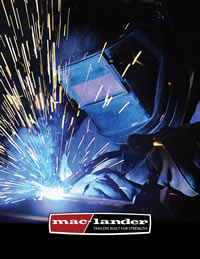 Our flatbed trailers are available immediately from manufactured stock supplies.
We also stock a substantial line of repair parts for your flat-bed trailer when the need arises.  More information is available from the Mac-Lander factory or your nearest dealer.